IP20 metal casing with DIN rail fixing system
1 SHDSL port for point to point connection
LAN Connection: 4 Ethernet ports
Configuration via HTML web pages
Description

Specification
The XSLAN+1400 is designed to be used without any configuration. However, it may be necessary to access the switch administration, either to use a particular function such as, for example, VLANs, QoS or SNMP administration or to perform advanceddiagnostics.
In this case, the XSLAN+1400 is configured and managed by a PC with a web browser. No additional software is required.
The XSLAN family of SHDSL switches enables the connection of remote Ethernet networks using a simple copper pair in order to reach data rate up to 15Mbps.
A large range of Ethernet extenders is offered: Point-to-point, multipoint,4 SHDSL lines concentrator
A "PLUG AND PLAY" MODEL
Activation of a point to point connection (XSLAN+1400)or web page (XSLAN-1400).
SHDSL LINE CONCENTRATOR
XSLAN-4200 is a 4 lines concentrator to interconnect 4 remote Ethernet networks. The XSLAN-XXX does concentrate 2 lines.
DAISY CHAIN NETWORK
The XSLAN-2400 can be used to build a daisy chain topology via a copper pair.
Auto-negociationThis configuration mode can be used to quickly plug the XSLAN to the copper pair without knowing the XSLAN status (master or slave).
FAILSAFE RING
XSLAN is working with RSTP or Etic Telecom protocol in order to build any type of topology with redundancy.
"The By-Pass"The "By-Pass" feature is used to close the line (electro-mechanical relay) when the XSLAN is switched off. The daisy chain is thus not cut.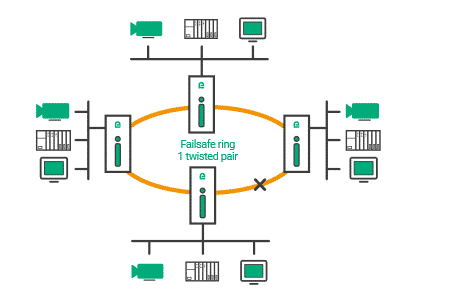 SHDSL LINE AGGREGATION TO INCREASE DATA RATE AND SECURITY
XSLAN-2xxx and XSLAN-42xx can aggregate SHDSL lines to increase the data rate or to offer a line backup
Loop VPN for secured ringWhen the SHDSL network forms a daisy chain and when it is not possible to form a secured ring, the "loop VPN" function allows a network redundancy if an Internet or a private (MPLS) connectionis available at each end of the SHDSL network.
General Characteristics
Dimensions
XSLAN-1100: 120x37x88 (h,l,d)
Other products: 136 x 47 x 142 mm (h,l,d)
Weight
Between 500 and 750 g depending on model (without packaging)
Power
XSLAN-1220, 2220, 4220: 10-30 VDC (nominal: 12-24 VDC)
Others XSLAN: 10-60 VDC (nominal: 12-48 VDC)
Phoenix connector 2 points
Isolation: 1500 V
Consumption
XSLAN-1100: XSLAN-1XXX: 5 W
XSLAN-2XXX: 6 W
XSLAN-4XXX: 9 W
Temperature
-40°C / + 70°C (Humidity 5 to 95 %)
EMC
Immunity (EN 61000-6-2)
EN61000-4-2: Electrostatic discharge (ESD)
EN61000-4-3: RF radiated
EN61000-4-4: EFT/Burst
EN61000-4-5: Surge
EN61000-4-6: RF ConductedEmission (EN 61000-6-4)
EN55032: Radiated and conducted emission
Electrical Safety
IEC-EN 62368-1
Hazardous substances
Directive 2002/95/CE (RoHS)
REACH
Casing
Metallic IP31 (XSLAN-1100) or IP20 (other products) with DINRail mounting
SHDSL Transmission
Cable
1 copper pair (shielding and diameter between 0.4mm and 1mm is recommended)
Connector
Phoenix connector (2 points)
Isolation
1500 V
Latency
2ms between Ethernet ports of 2 SHDSL switches (Ethernet frame of 100b at 5.7 Mbps
Ethernet FEATURES ( LEVEL 2 )
Ethernet
RJ45
Auto: 10/100 full & half MDI/MDI-X
SHDSL Ethernet
802.3ah: 2BaseTL
Switch
Store and forward
VLAN
VLAN via port IEEE 802.lQ
MAC Filter
Destination MAC adress filter
Redondant network
Protocol VRRP RFC 3768 and Failsafe Ring
IP FEATURES ( LEVEL 3 )
IP Adress
PV4 and IPV6
SNMP
SNMP V2 RFC1213 MIB II
HDSL2-SHDSL-LINE-MIB
HOST-RESOURCES-MIB
IF-MIB IP-MIB
BRIDGE-MIB
QoS
DiffServ - 5 priority levels management depending on traffic
serial gateway
Serial link
2 serial links (RS232 and RS485)
Connectors
RS232: RJ45 2 pts
RS485: removeable 2 points connector
Data rate
1200 up to 115 200b/s
Gateway
Raw TCP client & server
UDP (unicast or towards broadcast list)
Multicast, Telnet
Modbus Master & Slave, Unitelway Slave
Digital input and output
Digital Input
1 input
value O 3 V
Removeable connector
Digital Output
1 output
voltage / max. current: 54 VDC / 0,5A
Removeable connector
system and configuration
Configuration
Web server (configuration and diagnostic)
Date and hour
NTP client and server
Upgrade firmware
Locally or via the SHDSL link
LOG
Last 300 events. Syslog