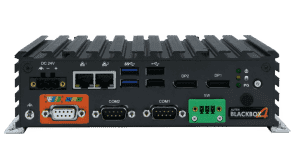 With the BLACKBOX 4 Edge, AUTEM offers an ultra-compact system for PLC process data recording, monitoring and remote maintenance of machines and systems based on the PLC-ANALYZER pro 6. The industrial PC can be easily integrated thanks to its small dimensions.
The BLACKBOX 4 Edge can continuously record and archive process data over a very long period of time. In addition, video data can also be recorded synchronously with the PLC process data (Videotrack module).
Description

Specification
Technical Features

Massive aluminium case
Mini-PC (FANless) with Intel® Celeron® Quad-Core 1.5 GHz
1 TB SSD / 8 GB RAM
Dimensions (WxDxH): 185 x 131 x 54 mm / 1,35 kg
DIN rail mounting / Adapter scope of delivery
Control-LEDs for RECORDING, PWR, HDD, LAN
2 x USB 3.0 (each 900 mA load-bearing)
2 x USB 2.0 (each 500 mA load-bearing)
2 x GbE LAN Port (Gigabit Ethernet)
2 x DP-Display Port Video output
2 x 9 pol. D-Sub RS232 (COM1/COM2)
Mini-PCIe slot for opt. Wi-Fi / 3G/4G-Modem
2 x Antenna connection
Power supply 9 ~ 30 V DC / 2,5 A
Plug with cable for ext. DC power supply
Ext. power supply 100 ~ 240 V AC 60 W
Connection for remote PWR-ON/OFF, plug incl.
Environment: -5°C ~ 55°C operating temperature (ambient with air flow / according to IEC60068-2-1, IEC60068-2-2, IEC60068-2-14), 10 % ~ 95 % rel. humidity – non-condensing
Signal recording capacity typ. Ø 3 years*
Watchdog monitoring
3 potential-free contacts led out (matching plug included):

POWER-INDICATOR: Signaling BLACKBOX 4 Edge operating state
LIFE-INDICATOR: Signaling PLC-ANALYZER operating state
ACTION-CONTACT: Signaling trigger action

Status messages via E-mail or SMS (opt.)
3 m LAN patch cable (Cat. 5e) for direct remote con-trol by external PC scope of delivery
Windows 10 pro (64-Bit) (multi-language)
Remote control via LAN, WAN, (Radio-) Modem/Internet (VPN) possible
BLACKBOX-license PLC-ANALYZER pro 6 with desired PLC-driver incl. documentation
System completely installed ("ready-to-use")
CE, FCC Class A
48 hour Burn-In, 12 months warranty
Fields of application
Long term recording
Failure diagnosis
Objective control of operating parameters
Warrenty: incorruptible clarification
Clarification of plant shutdowns
Condition monitoring
Quality assurance
Batch control
Remote maintenance
We Bluboxx Communications Having Expertise In Providing Complete Networking Solutions In Pune And All Over PAN India.
We Provide complete Modbus Gateways Solutions in Pune, Mumbai, Kolkata, Bangalore, Chennai, Hyderabad, Delhi, Noida, Thane, Indore, Jaipur, Nagpur, Mangalore, Nashik, Coimbatore, Bhopal, Baroda, Surat, Ahmedabad, GOA, Gurgaon, PAN India.