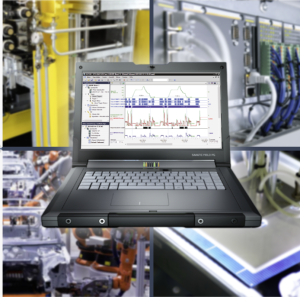 PLC-ANALYZER pro 6 by AUTEM is a software system for logic analysis and recording of measured values in PLC-controlled facilities. Acquisition, representation and evaluation of PLC signals such as input, output, flags, timer, counter, data of data blocks, is now very easy. In addition, video data can also be recorded synchronously with the PLC process data (Videotrack module).
Description

Specification
Technical features
All-in-One: Project setup, recording, analysis in one tool
Pure software solution: No special additional hardware required
No need to make any changes in the PLC program
Data recording via existing connection to the PLC (Ethernet TCP/IP, serial, Fieldbus, …)
High-performance sampling by specific PLC drivers
Recording of input, output, flag, timer, counter, peripheral, data of data blocks and other PLC variables
Use symbols directly from the PLC programming software, e.g. load TIA projects and use symbols / settings
Import symbols also directly from TIA PLCs
Optimized data blocks (S7 1200/1500): Variables direct readable
bit-, byte-, word-, double- or quad-word format
Pseudo signals: generating of virtual signals by [complex] calculation from recorded signals
Simultaneous acquisition from several PLC systems / also different manufactures (e.g. SIMATIC S7 + CoDeSys)
Up to 250 signal sources / 16 million variables
Videotrack (optional): Camera recording synchronous with PLC signal capturing
Cycle precise recording for different PLC systems
Supports PC based PLC (e.g. Beckhoff TwinCAT) and PLC simulators (e.g. S7-PLCSIM)
Recording modes: continuous recording, trigger-, time-controlled
Enable/Disable of addresses and triggers during recording
Real-time online display of signals
Comfortable PLC signal selection for online window by drag & drop
Analysis of signal data possible while recording
Highly accurate display of signals with short-term fluctuations of measured values ("spikes")
Comfortable trigger definition by drag & drop
Trigger on binary and register values with AND/OR/XOR/RS and cascading
Pre- and post-trigger time freely selectable
Extensive trigger actions: Notification (E-Mail, SMS, acoustic announcement, pop-up-window), any PC-commands
Comparing of signal files
Search function: search for trigger, edge, bit pattern, register values, time and notes – even across several signal files
Time difference measurement and automatic bit measurement
Relative and absolute data-time
Flexible signal scaling and normalization – e.g. conversion in physical units or min-max-ajustment of measured value
Number format: decimal, hexadecimal, binary, ASCII, REAL (floating point), S5-TIME, TIME, DATE, DATETIME
Projects for pre-configuring and automating data acquisition runs
Extreme robust and compact file format
Multiple data targets at the same time: e.g. simultaneous writing of signal file and CSV file
Export of signal files: PDF, CSV, Excel, HTML, graphic formats
Import of CSV files: visualisation of other measure values
Printing of signal files and measurement configuration
Multilingual user interface: German / English
System requirements: Microsoft® Windows 7/8/10/11 (32/64-Bit)
AD_USB-Box® (optional): Recording of external voltage and current with external box connected via USB
Videotrack module (optional): The Videotrack module enables video recording time-synchronous to PLC signal capturing.
BLACKBOX 4 Edge (optional): Ultra-compact industrial PC for control cabinet; long-term process data recording, monitoring, remote maintenance
 
Fields of application
Failure diagnosis
Detecting and localizing of sporadic errors
Cycle time optimization
Long-term recording of measured values
System documentation, TPM/OEE, EU-Machinery directive
Condition monitoring / Predictive maintenance
Warranty: incorruptible clarification
Quality assurance
Installation, development, maintenance
We Bluboxx Communications Having Expertise In Providing Complete Networking Solutions In Pune And All Over PAN India.
We Provide complete Modbus Gateways Solutions in Pune, Mumbai, Kolkata, Bangalore, Chennai, Hyderabad, Delhi, Noida, Thane, Indore, Jaipur, Nagpur, Mangalore, Nashik, Coimbatore, Bhopal, Baroda, Surat, Ahmedabad, GOA, Gurgaon, PAN India.