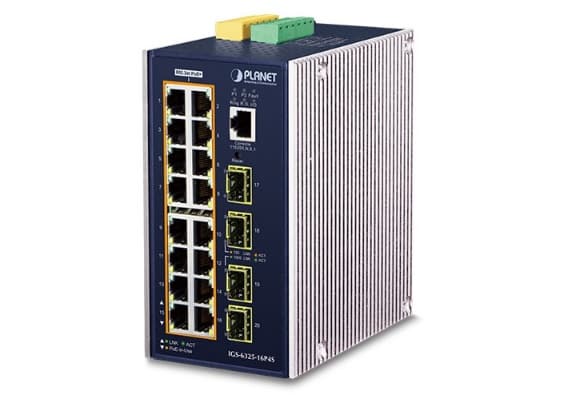 Industrial L3 8-Port 10/100/1000T 802.3bt PoE + 2-Port 100/1000X SFP + 2-Port 10G SFP+ Managed Ethernet Switch
Description

Specification

Application
High-capacity Unit for Factory and Metropolitan Long-reach Networking
PLANET IGS-6325-16T4S is the smallest yet high-capacity, industrial-grade Layer 3 managed switch with high-density hybrid copper and fiber optic interfaces. It features 16 10/100/1000BASE-T RJ45 ports and 4 100/1000BASE-X SFP slots in a DIN-rail type rugged case and can operate stably under the temperature range from -40 to 75 degrees C.
It is designed to be installed in any space-limited cabinets as it is small in size. Its connection distance can be flexibly extended via its powerful ports.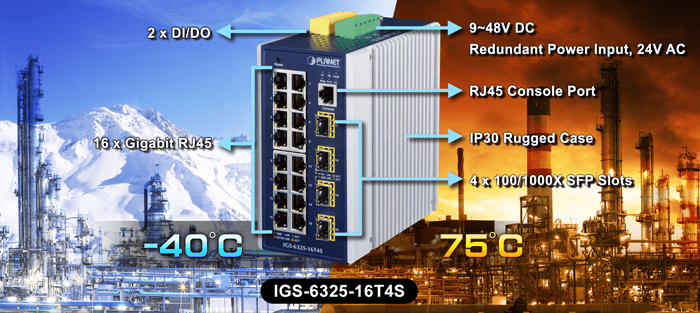 Layer 3 Routing Support
The IGS-6325-16T4S enables the administrator to conveniently boost network efficiency by configuring Layer 3 IPv4/IPv6 VLAN static routing manually, and the IPv4 OSPFv2 (Open Shortest Path First) settings automatically. The OSPF is an interior dynamic routing protocol for autonomous system based on link state. The protocol creates a database for link state by exchanging link states among Layer 3 switches, and then uses the Shortest Path First algorithm to generate a route table based on that database.
Redundant Ring, Fast Recovery for Critical Network Applications
The IGS-6325-16T4S supports redundant ring technology and features strong, rapid self-recovery capability to prevent interruptions and external intrusions. It incorporates advanced ITU-T G.8032 ERPS (Ethernet Ring Protection Switching) technology, Spanning Tree Protocol (802.1s MSTP), and redundant power input system into customer's industrial automation network to enhance system reliability and uptime in harsh factory environments. In a simple Ring network, the recovery time of data link can be as fast as 10ms.

Network with Cybersecurity Helps Minimize Security Risks
The IGS-6325-16T4S comes with enhanced cybersecurity to fend off cyberthreats and cyberattacks. It supports SSHv2, TLS v1.2 and SSL protocols to provide strong protection against advanced threats. Served as a key point to transmit data over multiple long distance fiber optical connections to customer's critical equipment in a business network, the cybersecurity feature of the IGS-6325-16T4S protects the switch management and enhances the security of the mission-critical network without any extra deployment cost and effort.

Modbus TCP Provides Flexible Network Connectivity for Factory Automation
With the supported Modbus TCP/IP protocol, the IGS-6325-16T4S can easily integrate with SCADA systems, HMI systems and other data acquisition systems in factory floors. It enables administrators to remotely monitor the industrial Ethernet switch's operating information, port information, communication status, and DI and DO status, thus easily achieving enhanced monitoring and maintenance of the entire factory.
1588 Time Protocol for Industrial Computing Networks
The IGS-6325-16T4S is ideal for telecom and carrier Ethernet applications, supporting MEF service delivery and timing over packet solutions for IEEE 1588 and synchronous Ethernet.

Redundant Power to Ensure Continuous Operation
The IGS-6325-16T4S possesses dual DC 9~48V and AC 24V power supply utilized as redundant power supply to ensure its continuous operation. Its redundant power system is specifically designed to handle the demands of high-tech facilities requiring the highest power integrity.
SMTP/SNMP Trap Event Alert
The IGS-6325-16T4S provides event alert function to help to diagnose the abnormal device owing to whether or not there is a break of the network connection, or the rebooting response.
Advanced IP Network Protection
The IGS-6325-16T4S also provides DHCP Snooping, IP Source Guard and Dynamic ARP Inspection functions to prevent IP snooping from attack and discard ARP packets with invalid MAC address. The network administrators can now construct highly-secure corporate networks with considerably less time and effort than before.
Excellent Traffic Control
The IGS-6325-16T4S is loaded with powerful traffic management and QoS features to enhance connection services by telecoms and ISPs. The QoS features include wire-speed Layer 4 traffic classifiers and bandwidth limit that are particularly useful for multi-tenant units, multi-business units, Telco and network service providers' applications. It also empowers the industrial environment to take full advantage of the limited network resources and guarantees the best performance in VoIP and video conferencing transmission.
Intelligent SFP Diagnosis Mechanism
The IGS-6325-16T4S supports SFP-DDM (digital diagnostic monitor) function that greatly helps network administrator to easily monitor real-time parameters of the SFP transceivers, such as optical output power, optical input power, temperature, laser bias current, and transceiver supply voltage.
Ordering Information
IGS-6325-16T4S Industrial L3 16-Port 10/100/1000T + 4-Port 100/1000X SFP Managed Ethernet Switch
Hardware Specifications
Copper Ports
16 10/100/1000BASE-T RJ45 auto-MDI/MDI-X ports
SFP Ports
4 100/1000BASE-X SFP slot interfaces (Port-17 to Port-20)
Compatible with 100BASE-FX SFP transceiver
SFP+ Ports
N/A
Console
1 x RJ45-to-RS232 serial port (115200, 8, N, 1)
Switch Architecture
Store-and-Forward
Switch Fabric
40Gbps/non-blocking
Throughput
29.76Mpps@64Bytes
Address Table
16K entries, automatic source address learning and aging
Shared Data Buffer
32Mbits
Jumbo Frame
10K bytes
SDRAM
512Mbytes
Flash Memory
64Mbytes
Flow Control
IEEE 802.3x pause frame for full duplex
Back pressure for half duplex
Reset Button
< 5 sec: System reboot
> 5 sec: Factory default
Connector
Removable 6-pin terminal block for power input
Pin 1/2 for Power 1, Pin 3/4 for fault alarm, Pin 5/6 for Power 2
Removable 6-pin terminal block for DI/DO interface
Pin 1/2 for DI 1 & 2, Pin 3/4 for DO 1 & 2, Pin 5/6 for GND
Alarm
One relay output for power failure. Alarm relay current carry ability: 1A @ 24V DC
Digital Input (DI)
2 digital input:
 Level 0: -24~2.1V (±0.1V)
 Level 1: 2.1~24V (±0.1V)
 Input load to 24V DC, 10mA max.
Digital Output (DO)
2 digital output:
 Open collector to 24VDC, 100mA
Enclosure
IP30 aluminum case
Installation
DIN-rail or wall mounting
Dimensions (W x D x H)
76.8 x 107.3 x 152 mm
Weight
1,168g
Power Requirements
DC 9~48V, 3.3A max.
AC 24V, 1.2A max.
Power Consumption
DC input:
Max. 9.12 watts/32BTU
(system on)
Max. 26.04 watts/89 BTU (Full loading)

AC 24V input:
Max. 12 watts/41BTU (system on)
Max. 29 watts/99 BTU (Full loading)
ESD Protection
6KV DC
Surge Protection
4KV DC
LED Indicators
System:
 Power 1 (Green), Power 2 (Green)
 Fault Alarm (Red)
 Ring (Green), Ring Owner (Green)
 DIDO (Red)
Per 10/100/1000T RJ45 Port:
 1000Mbps LNK/ACT (Green)
 10/100Mbps LNK/ACT (Amber)
Per SFP Port:
 1000Mbps LNK/ACT (Green)
 100Mbps LNK/ACT (Amber)
Layer 2 Management Functions
Port Configuration
Port disable/enable
Auto-negotiation 10/100/1000Mbps full and half duplex mode selection
Flow control disable/enable
Port link capability control
Port Status
Display each port's speed duplex mode, link status, flow control status, auto-negotiation status, trunk status
Port Mirroring
TX/RX/Both
Many-to-1 monitor
VLAN
802.1Q tagged VLAN
Q-in-Q tunneling
Private VLAN Edge (PVE)
MAC-based VLAN
Protocol-based VLAN
Voice VLAN
IP Subnet-based VLAN
MVR (Multicast VLAN registration)
GVRP
Up to 256 VLAN groups, out of 4095 VLAN IDs
Link Aggregation
IEEE 802.3ad LACP/static trunk
14 trunk groups with 16 port per trunk group
Spanning Tree Protocol
IEEE 802.1D Spanning Tree Protocol
IEEE 802.1w Rapid Spanning Tree Protocol
IEEE 802.1s Multiple Spanning Tree Protocol
IGMP Snooping
IPv4 IGMP (v1/v2/v3) snooping
IPv4 IGMP querier mode support
Supports 255 IGMP groups
MLD Snooping
IPv6 MLD (v1/v2) snooping,
IPv6 MLD querier mode support
Supports 255 MLD groups
Access Control List
IP-based ACL/MAC-based ACL
ACL based on:
 - MAC Address
 - IP Address
 - Ethertype
 - Protocol Type
 - VLAN ID
 - DSCP
 - 802.1p Priority
Up to 256 entries
Bandwidth Control
Per port bandwidth control
Ingress: 100Kbps~1000Mbps
Egress: 100Kbps~1000Mbps
QoS
Traffic classification based, strict priority and WRR
8-level priority for switching:
 - Port number
 - 802.1p priority
 - 802.1Q VLAN tag
 - DSCP/ToS field in IP packet
Synchronization
IEEE 1588v2 PTP(Precision Time Protocol)
 - Peer-to-peer transparent clock
 - End-to-end transparent clock
Layer 3 Functions
IP Interfaces
Max. 128 VLAN interfaces
Routing Table
Max. 128 routing entries
Routing Protocols
IPv4 hardware static routing
IPv6 hardware static routing
OSPFv2 dynamic routing
Management
Basic Management Interfaces
Console; Telnet; Web browser; SNMP v1, v2c
Secure Management Interfaces
SSHv2, TLS v1.1/v1.2, SSL, SNMPv3
System Management
Firmware upgrade by HTTP protocol through Ethernet network
Configuration upload/download through HTTP
Remote Syslog
System log
LLDP protocol
NTP
PLANET Smart Discovery Utility
SNMP MIBs
RFC 1213 MIB-II
RFC 1493 Bridge MIB
RFC 1643 Ethernet MIB
RFC 2863 Interface MIB
RFC 2665 Ether-Like MIB
RFC 2819 RMON MIB (Group 1, 2, 3 and 9)
RFC 2737 Entity MIB
RFC 2618 RADIUS Client MIB
RFC 2863 IF-MIB
RFC 2933 IGMP-STD-MIB
RFC 3411 SNMP-Frameworks-MIB
RFC 4292 IP Forward MIB
RFC 4293 IP MIB
RFC 4836 MAU-MIB
IEEE 802.1X PAE
LLDP
Standards Conformance
Regulatory Compliance
FCC Part 15 Class A
CE:
EN55032
EN55035
EN 62368-1/IEC 62368-1: 2014
Stability Testing
IEC60068-2-32 (free fall)
IEC60068-2-27 (shock)
IEC60068-2-6 (vibration)
Standards Compliance
IEEE 802.3 10BASE-T
IEEE 802.3u 100BASE-TX/100BASE-FX
IEEE 802.3z Gigabit SX/LX
IEEE 802.3ab Gigabit 1000T
IEEE 802.3x flow control and back pressure
IEEE 802.3ad port trunk with LACP
IEEE 802.1D Spanning Tree Protocol
IEEE 802.1w Rapid Spanning Tree Protocol
IEEE 802.1s Multiple Spanning Tree Protocol
IEEE 802.1p Class of Service
IEEE 802.1Q VLAN tagging
IEEE 802.1X Port Authentication Network Control
IEEE 802.1ab LLDP
IEEE 802.3ah OAM
IEEE 802.1ag Connectivity Fault Management (CFM)
RFC 768 UDP
RFC 793 TFTP
RFC 791 IP
RFC 792 ICMP
RFC 2068 HTTP
RFC 1112 IGMP v1
RFC 2236 IGMP v2
RFC 3376 IGMP v3
RFC 2710 MLD v1
RFC 3810 MLD v2
RFC 2328 OSPF v2
ITU-T G.8032 ERPS Ring
ITU-T Y.1731 Performance Monitoring
Environment
Operating
-40 ~ 75 degrees C
Storage
-40 ~ 85 degrees C
Humidity
5 ~ 95% (non-condensing)
High Availability Mesh Networking Solution for Big Data System
To improve the technology of Optical Fiber Ethernet with highly-flexible, highly-extendable and easy-to-install features, the IGS-6325-16T4S offers up to 40Gbps data exchange speed via Optical Fiber interface and the transmission distance can be extended to 120km.
The IGS-6325-16T4S features strong, rapid, self-recovery capability to prevent interruptions and external intrusions. It incorporates ITU-T G.8032 ERPS (Ethernet Ring Protection Switching) into customer's automation network to enhance system reliability and uptime. The IGS-6325-16T4S is the ideal solution for data centers, service providers and telecoms to build redundant connection and establish high bandwidth for Big Data server farm.
Layer 3 VLAN Routing
With the built-in, robust Layer 3 routing protocols, the IGS-6325-16T4S ensures reliable routing between VLANs and network segments. The routing protocols can be applied by VLAN interface with up to 128 routing entries. The IGS-6325-16T4S, certainly an ideal solution for industries, offers greater security, control and bandwidth conservation, and high-speed uplink.
We have Expertise in providing the Best Quality L3 Ring Managed Ethernet Switches at Very Affordable Cost.
If you are looking for L3 Ring Managed Ethernet Switches such as IGS-6325-16T4S, IGS-6325-8T4X, IGS-6325-8UP2S2X, IGS-6325-8T8S Etc, then you can contact us for sure.
PLANET IGS-6325-16T4S is the smallest yet high-capacity, industrial-grade Layer 3 managed switch with high-density hybrid copper and fiber optic interfaces. It features 16 10/100/1000BASE-T RJ45 ports and 4 100/1000BASE-X SFP slots in a DIN-rail type rugged case and can operate stably under the temperature range from -40 to 75 degrees C.
We Provide All Types of L3 Ring Managed Ethernet Switch in Pune, Mumbai, Kolkata, Bangalore, Chennai, Hyderabad, Delhi, Noida, Thane, Indore, Jaipur, Nagpur, Mangalore, Nashik, Coimbatore, Bhopal, Baroda, Surat, Ahmedabad, GOA, Gurgaon, PAN India